Glasgow City Council facing £50m deficit by 2015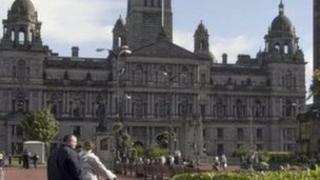 Scotland's largest local authority will have to make savings of about £50m by 2015, according to its latest forecast.
A briefing paper for Glasgow City Council members stated that rising costs and limits on Scottish government funding would leave a £48.8m deficit.
The paper also said a further shortfall of about £50m may need to be tackled in the financial years 2015-17.
It does not present options on how cash could be saved - a decision councillors will have to make in the months ahead.
The authority is already well on the way to cutting 2,800 jobs through retirements and voluntary redundancies, as part of wider measures to save about £115m between 2011 and 2013.
A projected shortfall of £48.8m, from its current budet of £2.4bn, for the financial years 2014 and 2015, will likely put more pressure on councillors to cut jobs.
'Difficult decisions'
A council spokesman said: "This forecast sets out the financial challenges facing all Scottish local authorities now and in the foreseeable future.
"We have taken some difficult decisions in the last few years and over the autumn we will be putting together a package which will continue to take the city forward."
The briefing document also flagged up possible shortfalls as far as 2017.
It said: "This forecast has concentrated on the next two financial years, however, some early work has been undertaken in respect of projections beyond 2015.
"Initial conclusions are that that the current trend of cash reductions in the council's settlement (from the Scottish government) is expected to continue.
"It is difficult at this early stage to accurately forecast the impact for the council but initial projections suggest the reduction in grant over that two-year period could be in the region of around £50m. This is before any allowance for spending commitments."
Last week, North Lanarkshire Council announced it needed to save more than £70m over the next three years. Proposals on what could be cut are expected to go out to consultation next month with councillors reaching a decision before Christmas.