Scottish Health Survey: Obesity still problem for Scots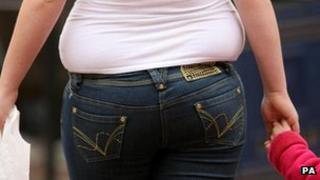 Obesity is still a major problem for many people in Scotland, with a growing number of children being classed as overweight, new figures have shown.
The 2011 Scottish Health Survey results showed that obesity "has increased significantly since 1995" but remained broadly stable since 2008.
Growing obesity was also highlighted in a separate Glasgow University report.
It found waistlines had become bigger in the past 10 years while average muscle mass among Scots had fallen.
The latest Scottish Health Survey is the seventh such report to be produced since 1995.
Three quarters of adults (76%) who responded in 2001 described their health as "good" or "very good".
BMI marker
Just under two-thirds (64.3%) of adults, aged 16 and over, were classed as overweight or obese, with a body mass index (BMI) of 25 and over.
More than a quarter (27.7%) of respondents were classed as obese.
The report stated that two-thirds (65.6%) of children had a healthy weight in 2011, down from 70.3% in 1998.
Within this group, girls (68%) were more likely than boys (63.4%) to be a healthy weight.
Obesity problems among Scots were also highlighted in a Glasgow University review of data from Scottish Health Surveys in 1998, 2003, 2008.
Over the period, researchers found that men's BMI increased from an average of 26.9 to 28, while women's was up from 26.7 to 27.5.
The average man's waist circumference grew from 93.7cm (37in) to 99cm (39in), while the average woman's had expanded from 82.7cm (32.5in) to 89.1cm (35in).
Professor Mike Lean, from the university's school of medicine, said: "Our results demonstrate striking increases in both BMI and waist circumference over a 10-year period and among people at almost every age.
"The changes are most marked among women who now have waists eight to 10 centimetres bigger than women of the same age 10 years ago, while men have waists five to seven centimetres bigger.
"The data suggest a disproportionate increase in body fat, compared with muscle, at all ages, but particularly among older women."
'Fat distribution'
Prof Lean said the "patterns indicate substantial increases in body fat, relative to muscle, or an exaggerated shift towards more central fat distribution".
He added: "These changes appear to continue in older age-groups than in the past. They herald loss of physical capacity and also metabolic decline, with even more diabetes.
"Whichever of these is responsible, and whatever the socioeconomic and behavioural influences, this shift in body composition is likely to herald poorer health.
"It seems reasonable to hypothesise that adverse changes in dietary habits and reduced physical activity are the primary causes of the observed trends."
Elsewhere, the 2011 Scottish Health Survey showed that a quarter of men (25%) and just under a fifth of women (18%) were categorized as "hazardous or harmful drinkers".
Harmful drinking for men is consuming more than 21 units of alcohol per week, with the benchmark just 14 units for women.
The survey concluded that the "prevalence of hazardous and harmful drinking has declined since 2003, most notably in the 2003 to 2009 period".
Previous reports recorded a "sharp decrease" in "non-smokers exposure to second-hand smoke" following the ban in smoking in public places in 2006.
The latest survey said this was "maintained" in the 2011 survey, with only 8% of non-smokers being affected.
In terms of physical activity, 39% of adults met the recommended levels, with more men (45%) taking exercise that women (33%).
Healthy diet
The report concluded that since 2008, "there has been no significant change in the proportion of adults meeting the recommendations".
Physical activity levels were much higher among children, where the recommended level is 60 minutes each day, including school-based activity.
In 2011, 73% of children met the recommendations, with boys (76%) scoring higher than girls (70%).
The figure for girls, however, was up significantly from 64% in 2008, with boys showing little change.
The survey also showed "no significant change in the proportion of adults or children consuming the recommended daily intake of five or more portions of fruit and vegetables".
The figures showed 20% of men, 23% of women, 13% of boys and 12% of girls meeting the recommendations.
Other indicators in the survey showed 15.6% of men and 13.8% of women reporting having cardiovascular disease.
Some 6.1% of men and 4.9% of women said they had been diagnosed by a doctor as having diabetes.
Commenting on the latest survey, Health Minister Michael Matheson said that while many of the figures were "encouraging" more needed to be done.
"We are determined to encourage Scotland to become a healthier, fitter and more active nation," he said.
"We will deliver 150 community sports hubs across all local authorities by 2016, with at least half of these based in schools, and have been investing in opportunities for young people to become more physically active in and around Scotland's schools."