Prestwick Airport runway closed after heavy rain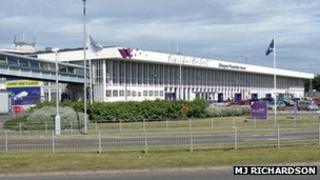 Flights at Prestwick Airport were switched to its second runway after heavy rain resulted in flooding.
The main runway was closed at 16:30 on Thursday and four flights scheduled to land on Thursday night were diverted to Edinburgh Airport.
Passengers on flights due to fly to Palma, Wroclaw, Fuerteventura and Dublin on Friday were warned to expect delays.
They should check in as normal but contact their airline for information.
Iain Cochrane, chief executive of the airport, told BBC Radio Scotland: "We opened just after 6am this morning.
"The opening of the second runway allows us to facilitate all of our passenger traffic.
"We've never experienced this level of rainfall in such a short period of time. The burn that runs under the main runway burst its banks and backed up and caused extensive problems, not just within the airport vicinity but in the surrounding area."
A statement the airport's website said: "Flights may still be subject to delay and disruption, and passengers are advised to contact their airline for further information.
"Please allow extra time when travelling to/from the airport as some access routes may still be disrupted."
Flooding also caused problems on the roads in Ayrshire.
The A77 has now reopened in both directions after being closed between the Meiklewood interchange and the Dutchhouse roundabout.
The A76 is still shut at the Bellfield Interchange in Kilmarnock.