Police appeal after child sex attack at Clydebank supermarket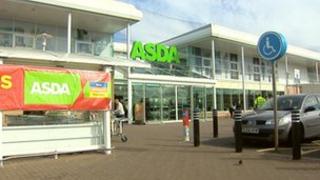 Police have appealed for help from the public after a four-year-old boy was sexually assaulted in a supermarket toilet in West Dunbartonshire.
Officers were called to the Asda store in Britannia Way in Clydebank at about 13:55 on Tuesday following a report of a sexual assault on a child.
Strathclyde Police said its inquiry into the circumstances was ongoing.
CCTV footage is being examined and all staff at the store have been interviewed.
Detectives have been examining CCTV footage in an attempt to identify an attacker.
The boy has described him as wearing brown or dark-coloured clothing, including a long-sleeved top, which may have had a logo. The man was said to have brown or dark hair.
Det Insp Graham Cordner said: "The wee boy is fine. He's thankfully uninjured and he's safe with his mother."
Mr Cordner appealed for the public to help his officers.
He added: "I believe there are other witnesses. It's a very busy supermarket.
"People will have been around the toilet area at or just after half past one on Tuesday afternoon.
"If you are one of these people please come forward to us because you are potentially a key witness. You may have seen the child, you may have seen the person that did this."
'Huge worry'
Responding to criticism about the time they had taken to make the details of the attack public, Strathclyde Police said it had taken a full day to interview the child and a further day to make initial inquiries.
People in the area said they were shocked by the incident.
One shopper said: "I'm very concerned. I have two children of my own and I think it's absolutely terrible. It's a huge worry."
Another man added: "We have a wee granddaughter.
"You worry about letting her out of your sight.
"There should be enough cameras in the place to catch these people."