Easdale World Stone Skimming Championships saved by £1,000 donation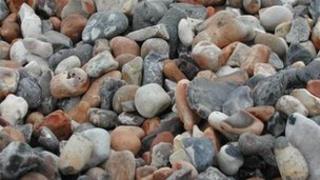 A row which threatened the World Stone Skimming Championships on the Scottish island of Easdale has been resolved.
The 15th annual event, near Oban in Argyll, was under threat after island owner Jonathan Feigenbaum sought an insurance fee for use of the land.
Organiser, the Eilean Eisdeal Trust, has its own insurance certificate but was unable to pay the £1,000 fee.
The Press and Journal newspaper has now donated the full amount, allowing the event to go ahead this Sunday.
Mr Feigenbaum accepted the £1,000 donation and said that the money will be spent on projects designated by the Easdale Island Residents and Property Owners Association.
'Fabulous competition'
Press and Journal editor Damian Bates said that he may now take part in the competition.
He said: "We were absolutely determined that this fabulous competition, that attracts people from across the globe to take part, would go ahead.
"It seems a terrible shame for the people of Easdale that it might fail for the sake of £1,000, so we decided to step in and pay the bill.
"It's just brilliant fun and everyone, young and old, has a chance of winning. I might even sharpen up my skimming skills and have a crack myself."
Earlier this week Mr Feigenbaum published an open letter to island residents, which said legal action could be taken if the event takes place without the relevant insurance.
He said he was glad the dispute had been resolved.
"It's a very good thing The Press and Journal stepped in," he said.
"I'm all for it and anything that helps the economy of the island.
"No organisation would allow anybody to use their property without adequate insurance. I still feel the whole thing could have been avoided.
Island boost
The competition is held in a disused slate quarry on the island where stones are said to be the ideal shape for skimming.
Keren Cafferty, chair of the event organising group, said: "We're thrilled with the news and are very grateful to The Press and Journal.
"It's a big relief to know we no longer have the threat of legal action hanging over us.
"This is a fantastic community-run event that really boosts the island. We have had a huge amount of inquiries about this year's event so we think it's going to be the biggest and best one yet."
The stone skimming competition was listed by travel guide Lonely Planet as one of the "must see events in Europe" this year alongside the London 2012 Olympics.
Last year's event attracted hundreds of people, from 19 countries, to the island which only has a population of 60.
The competition is split into categories for women, men, boys and girls and "old tossers" (over-60s).