Police drive down crime as seized gang cars to be sold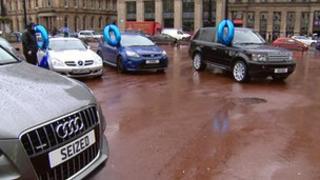 Strathclyde Police have seized cash and assets valued at £18.3m from organised crime gangs over the past year.
They include a number of high value cars which will now be sold to provide cash to be ploughed back into communities blighted by crime.
For a brief time George Square in Glasgow city centre resembled a used car showroom.
Gleaming models including a Range Rover, a 4-wheel drive Audi, a BMW and a Subaru Impreza.
All had been seized by police in their fight against organised crime - many had been used personally by gang members.
Criminal owner
Their number plates spelled out the message; "Tackling Organised Crime."
And window stickers boasted: "One criminal owner."
It is part of Strathclyde Police's continuing campaign to hit criminals where it hurts - in the pocket.
The vehicles will be sold under the Proceeds of Crime Act, which allows police and prosecutors to take the possessions of criminals which have been bought through illegally-gained income.
Deputy Chief Constable Campbell Corrigan said it would help people struggling on low incomes, but who see neighbours with no obvious sources of income driving powerful cars, understand the force's determination to crack down on organised crime.
"People will challenge us about the notion that crime doesn't pay," he said.
"But they will say if they see people driving around in these hugely expensive cars, how can you say that crime doesn't pay?
"Well, the fact is that these individuals are languishing in jail, these cars are here and the money from that will go back to the communities which actually deserve it."