Virtual foot set to help healing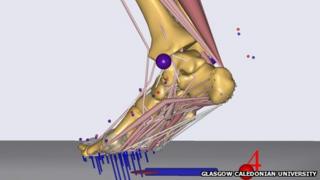 An advanced virtual model of the human foot has been created by researches to drive forward improvements in treating serious injuries and illness.
The 3D model depicts bones, joints, ligaments, muscles and tendons in an unprecedented level of detail.
It will be used to develop advanced treatments for conditions ranging from foot and ankle problems to amputations.
The 3.7 million euro a-footprint project is being led by Glasgow Caledonian University (GCU).
The human foot is particularly difficult to model because of its complexity.
Researchers worked in partnership with the Maastricht University and Danish biomechanical firm AnyBody Technology on what had been named the Glasgow/Maastricht Foot Model.
It is estimated that 200 million Europeans suffer from disabling foot and ankle conditions and the model should lead to more efficient orthotic devices, cutting recovery times and reducing symptoms.
It will also have aplications in treating flat feet or foot drop - which prevents recovering stroke patients from moving their ankles and toes.
GCU's Professor Jim Woodburn, who is the project co-ordinator, said: "Previous to this development, most computer models of the human body ended in a black rectangle - the foot was simply too complicated to model. The Glasgow/Maastricht foot is a game-changer.
"It opens the door to a huge range of applications, including the manufacture of better and more efficient orthotics, resulting in quicker recovery times, reduced symptoms and improved functional ability for those suffering from conditions which afflict the foot and lower leg."
The simulation can be used to test potential cures as well as developing new orthotic devices, using 3D printing techniques.