North Lanarkshire Council 'to axe' hundreds more jobs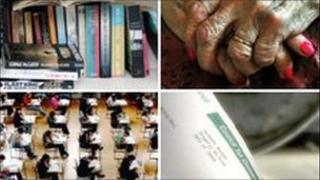 One of Scotland's largest councils looks set to cut several hundred more jobs and reduce services in a bid to save millions of pounds.
North Lanarkshire Council expects to have to save more than £70m over the next three years.
Council officials have come up with £100m worth of proposals for councillors to chose between.
Options include reducing free school bus services, axing lunchtime crossing patrols and changes to bin collections.
In December 2010, the authority announced plans to cut 600 jobs in a bid to save £55m over the next two years.
The proposals for the latest round of cuts are expected to go out to consultation next month with councillors reaching a decision before Christmas.
The document includes some proposals previously rejected by councillors.
Between them the proposals could lead to the equivalent of 1,362 full-time jobs going. However, the actual number will be significantly lower and will depend on which options councillors chose.
Potential options for councillors to consider include:
axing lunchtime school crossing patrols to save £300,000;
axing Christmas lights to save £200,000;
moving bin collections from a fortnightly cycle to a three week cycle; and
introducing charges for some parts of the pest control service and reducing grants to Citizens Advice Bureaus.
Although several hundred jobs could go, the council says it will always try to avoid compulsory redundancies. It has already cut several hundred jobs with only a handful of compulsory redundancies.
The council's chief executive, Gavin Whitefield, said: "If approved by the policy and resources committee next week, the council will embark on a massive consultation exercise.
"The council's management team have developed a package of savings options totalling more than £105m. Our financial forecasts indicate that we will be required to save £73.3m over the course of financial years 2013-14, 2014-15 and 2015-16.
"I would emphasise that the package of options does not represent decisions, proposals or plans. I recognise that many of the options are extremely unpalatable but we have a duty to balance our budget.
"When the consultation period begins at the start of October I would urge everyone to have their say on these options.
"The results of that consultation will inform the decisions the council will take in December to determine a savings package which best protects jobs and services."