Glasgow Airport staff seize 36 giant African land snails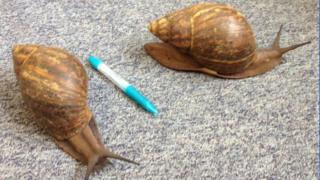 UK Border Force officers have seized 36 live giant African land snails from a Nigerian man at Glasgow Airport.
The snails, which the man claimed would be used for food, were found in his luggage following a flight from Amsterdam earlier this month.
The molluscs - which averaged about 15cm in length, with shells the size of a small human fist - were confiscated and passed to a rescue organisation.
The snails could have passed on disease to UK snails if released.
Border Force officials confiscated the gastropods, as live animals require an import licence, which the man did not have.
He was also in breach of controls on the importation of products of animal origin.
Murdo MacMillan, from Border Force in Scotland, said: "The vigilance of our officers at Glasgow airport has stopped these snails from entering Scotland, and possibly posing a risk to our native plants and wildlife.
"I would warn travellers not to attempt to bring live animals into the UK without a permit, or to bring in any products of animal origin which may contain pests or diseases."
Restrictions on what can be brought into the country apply to products made from meat, dairy, fish, eggs and honey, as well as some fruit, vegetables and plants.