Dovesdale waste incinerator application withdrawn by Scotgen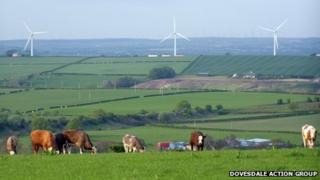 A permit application for a waste incineration plant in Lanarkshire has been withdrawn, according to the Scottish Environment Protection Agency.
Scotgen had wanted to build the plant at Dovesdale near Stonehouse but the plans attracted about 24,000 objections during a public consultation period.
Sepa said it had asked the firm 44 questions as part of the permit application process.
But Scotgen failed to answer all of the questions and withdrew the application.
A spokeswoman for Sepa said: "Scotgen (South Lanarkshire) Ltd applied to the Scottish Environment Protection Agency in May 2011 for a permit to operate an Energy from Waste facility at Dovesdale, near Stonehouse, South Lanarkshire.
"Under the terms of the Pollution Prevention and Control (Scotland) Regulations, Sepa sought additional information from the Applicant in order to determine the application.
"The deadline for submission of this additional information was set as 31 July 2012. By that time, responses to 33 of the 44 additional questions had been received.
"The applicant requested an extension of the deadline to respond to the outstanding questions. Sepa did not agree to this request and following representations by the applicant about this decision, Scotgen have indicated that they now intend to voluntarily withdraw their application for a PPC Permit.
"Sepa expect written confirmation of this within the next working week."
The news was welcomed by local campaigners who have fought against the development.
Gareth Jones from the Dovesdale Action Group said: "The decision of Scotgen not to proceed with a license to operate an incinerator at Dovesdale is welcome news for the 24,000 people who objected to the original planning application approved by South Lanarkshire Council.
"For two years Dovesdale Action Group have campaigned with supporters to ensure this license was not granted.
"Today we can see what we the people can do as communities when we unite together in protecting our environment and the families who live under the shadow of the proposed incinerator.
"The campaign is not over but we feel this is a major step forward in the fight to prevent an incinerator being constructed at Dovesdale."
Judicial review
Local MSP Christine McKelvie, said: "Scotgen has seen sense, cut their losses and withdrawn the application. The position of the local community has always been clear - an incinerator is neither wanted nor needed.
"It is clear that Scotgen have been unable to fully answer the questions asked by Sepa to satisfy requirements for the PPC permit and this is a triumph of people power from the residents of the Stonehouse area, in particular the Dovesdale Action Group whom I have worked closely with during this time.
"The tireless and relentless pursuit, including raising money to fund the application for a judicial review into the planning application, by the Dovesdale Action Group must be commended and shows that when people in local areas come together for a common cause they can succeed."
No-one from Scotgen was available for comment.