Threat to World Stone Skimming Championships on Easdale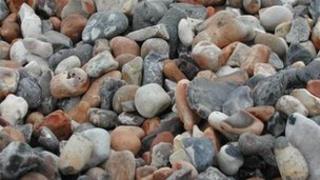 The World Stone Skimming Championships, held each year on a Scottish island, are under threat due to a row between the organisers and the landowner.
The event, listed as one of the most unmissable experiences in Europe, is due to happen on Easdale this weekend.
But the owner of the disused quarry where it is staged wants to charge a land use fee for the first time in its 15 year history.
The organiser told BBC Scotland the competition would go ahead as planned.
In an open letter to island residents, published on a local website, the quarry owner, Jonathan Feigenbaum, threatened to take legal action if the event - set to attract hundreds of people - takes place.
The landowner and Eilean Eisdeal Community Trust are embroiled in a dispute after he demanded a land use fee and asked to see a copy of the trust's public liability insurance.
'Big disappointment'
In his letter he said: "It was with a heavy heart but as you can see I had no real choice to make it clear to Eilean Eisdeal and its directors that permission to use any company land or asset has been refused for any organisation, individual or group of individuals, for the purpose of conducting any stone skimming or indeed any event.
"Should it be that the event does indeed take place and unauthorised use is made of Easdale Island Company Limited land or assets then those responsible will face the legal consequences of such conduct."
The Eilean Easdale Community Trust confirmed it had refused to pay the fee for the charity event - which it described as "excessive" - and had declined a request to produce its public liability insurance for inspection.
It is understood the landowner is seeking £1,000 for use of the quarry.
In an interview with BBC Radio Scotland, event organiser, Donald Melville, said: "We have held the event for 15 consecutive years in the quarry with the island owner's permission.
"I think it is a big disappointment. We have run the thing properly and professionally. We get a proper health and safety assessment done and stick to the recommendations in that.
"People come along and have a fantastic day. It is good fun and it just seems a shame that we are going to have £1,000 less, possibly, to put into community run events on the island."