Olympic parade: Andy Murray to miss Glasgow celebrations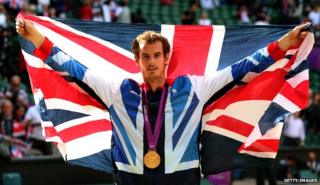 Tennis gold medallist Andy Murray will not be attending Glasgow's Olympic Parade on Friday.
Thousands of people are expected to turn out to cheer on Scotland's Olympic and Paralympic athletes at the event.
The parade will leave from Kelvingrove Museum at 16:15 and arrive in George Square at 17:15, where athletes will take to the stage for celebrations.
Cycling great Sir Chris Hoy will be among them but SportScotland have confirmed Murray will miss the event.
Murray apologised to his fans for not being able to attend but said he was hoping to be in Scotland before the end of next week to thank people for their support.
The 25-year-old beat Roger Federer to become the first British man to win the Olympic singles title since 1908.
His triumph came four weeks after he lost to Federer in the Wimbledon final and set him up for an epic maiden Grand Slam win against Novak Djokovic in the final of the US Open.
Reporting Scotland will be live in George Square from 18:30 and then from 19:00 on BBC2 a Reporting Scotland News Special will look ahead to Glasgow's Commonwealth Games.