Scottish Olympic parade draws thousands in Glasgow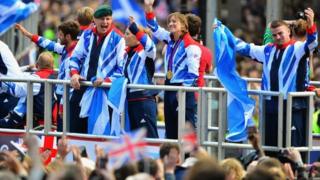 Thousands of people have taken to the streets of Glasgow for the official homecoming parade for Scotland's Olympic and Paralympic athletes.
The cavalcade left Kelvingrove Museum at 16:15 and reached a packed George Square at about 17:30.
Athletes are now attending a reception hosted by First Minister Alex Salmond.
Double cycling gold medallist Sir Chris Hoy, gold medal rower Katherine Grainger and gold-winning Paralympian cyclist Neil Fachie took part.
Tennis gold medallist Andy Murray could not attend but he will be in his hometown of Dunblane on Sunday.
Scottish athletes won a record-breaking 14 medals at the London Olympics and 11 medals at the Paralympics.
Sir Chris Hoy drew the biggest cheer of the afternoon as he addressed the crowds from the stage in George Square.
He told them: "Thank you so much, everybody, for coming out here today.
"All the athletes are saying it is way better than anybody could imagine. It means so much to us.
"Everywhere you go people are buzzing about it still. There is still so much energy and enthusiasm and excitement."
'Just amazing'
Neil Fachie also expressed his appreciation for the turnout.
"Just amazing," he said. "Thank you very much, Glasgow. I didn't expect to see so many of you here."
Luke Patience, silver medallist in the 470 Class sailing, shared his fellow athletes' enthusiasm.
"I thought the London parade was good. You guys are way better," he said.
Mr Salmond, who was in George Square to welcome the athletes, told BBC News: "London has set the bar very high indeed and we are aware of that.
"Glasgow is going to rise to the challenge and hopefully do even better.
"I think the volunteers were a huge success and that is certainly something we will be emulating.
"All the good things that happened in London we are determined to do more of."
The athletes travelled from Kelvingrove Museum to George Square on flatbed vehicles.
People waved Union flags, saltires and lion rampants. Office workers and residents leaned out of windows and used camera phones to snap pictures of the athletes as some pedestrians ran alongside the convoy. Banners in windows included one saying 'a-Hoy there'.
The street parade was not ticketed and entry to George Square was on a first-come-first-served basis.
After the city centre celebrations, the athletes, their friends and family, young sports people and representatives from other sporting bodies, attended a reception hosted by the first minister at the Old Fruitmarket.
Mr Salmond paid tribute to the endeavours of Scotland's athletes and said the country had "immense pride" in their achievements.
He added: "This has been an inspirational day in many ways."
Louise Martin CBE, chair of Sportscotland, said: "Today's celebrations were a fitting tribute for all of the Scottish athletes in Team GB and Paralympics GB.
"The unbelievable crowds which turned out was a sight to behold and shows just how much the Scottish public appreciate these wonderful athletes.
She added: "Without doubt Scottish sport is on a high, with an incredible 24 medals won during the London Games and Andy Murray's epic grand slam victory over Novak Djokovic at the US Open.
"As we move forward to the Glasgow 2014 Commonwealth Games it will be with excitement, optimism, and belief that Team Scotland will deliver its best ever Games."
Cllr Gordon Matheson, leader of Glasgow City Council, said: "This city loves sport and Glasgow gave our Olympic and Paralympic heroes a welcome they will never forget."
"Scottish athletes like Sir Chris Hoy, Katherine Grainger and our own Michael Jamieson have written themselves into the history books as part of Team GB - and the excitement that we have all shared this summer is only going to grow here in Glasgow as we get closer to 2014."