Keith Brown in bid to halt Clyde and Forth Coastguard closures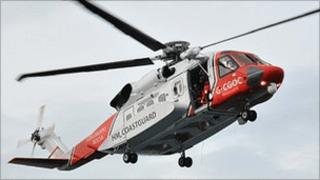 Scotland's transport minister has made a "last ditch plea" to save Clyde and Forth coastguard stations from closure.
Keith Brown said the closures and planned loss of an emergency towing vessel put Scotland at the centre of a "potentially dangerous experiment".
He has outlined the case for retaining services in evidence submitted to the Commons Select Committee on Transport.
Mr Brown also wants to meet with the new UK transport and shipping ministers following last week's reshuffle.
The UK government is closing eight coastguard stations as part of a modernisation plan.
Other centres set to close include Great Yarmouth, Liverpool, Thames, Swansea, Brixham and Portland.
The Clyde and Forth stations are due to close by the end of the year.
Centres in Belfast and Stornoway will, according to the UK government, take on the Clyde station's operations, without affecting safety.
'Urgent meeting'
Responsibilities for the Forth operations will transfer to Aberdeen and Shetland.
Mr Brown said he had submitted further evidence at the request of the Commons Select Committee for Transport, following their previous inquiry into coastguard modernisation.
He said the Scottish government had "consistently opposed the closures" and had "lobbied the UK government to reverse the decisions".
The minister said that following last week's UK cabinet reshuffle, he was also seeking "an urgent meeting with the new UK shipping minister and new UK transport secretary".
"I'm keen for talks to take place as soon as possible with the new shipping minister to see if a new minister will mean a change of mind over the fate of essential maritime services," he said.
"Since the original report last year the UK government has watered down coastguard closures, but Scotland is still very much in the firing line.
"This is too important an issue to gamble with. The UK government's proposed coastguard closures effectively mean cover falling from seven stations to three in just over a decade, leading to a loss of critical local knowledge and expertise."
Mr Brown said Clyde Coastguard was "the busiest rescue and co-ordination centre in Scotland, and among the busiest in the UK".
"We are not convinced by reassurances that adequate cover can be provided by resources from Belfast and Stornoway," he said.
'Resilient system'
"At present Scotland will be the first area to lose stations and stations will be shut before the system has been robustly tested.
"We should not be the guinea pig for such a potentially dangerous experiment."
A spokesman for the UK department for transport said: "Our reforms to modernise the Coastguard follow two periods of extensive public consultation and will deliver a more resilient fully-networked national system that is fit for the 21st century.
"The plans will boost the level of support we give to volunteer coastguard rescue offices in their local communities, enhancing frontline rescue services.
"These changes are continuing in line with the timetable and blueprint we published last November."