Philip Tartaglia installed as Archbishop of Glasgow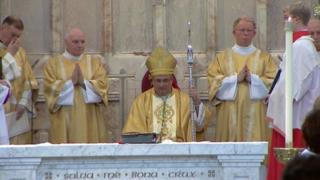 The new Roman Catholic Archbishop of Glasgow has been formally installed during an inaugural mass in the city.
Phillip Tartaglia, 61, Bishop of Paisley since 2005, took over from Archbishop Mario Conti.
At the service at St Andrew's Cathedral, he blessed the congregation before being presented with the Crozier of St Mungo - a shepherd's crook.
A letter from Pope Benedict, marking the new appointment, was read out.
Archbishop Tartaglia assumes his new role not far from where he grew up in Dennistoun.
The congregation at the cathedral included faith leaders and civic dignitaries invited from within the archdiocese.
More than 150 priests from all over Scotland, and some from Italy, took part in the service.
The new archbishop preached his first homily in which he said "we must never lack in trust, in commitment and in enthusiasm for the Gospel of Jesus Christ".
The 61-year-old archbishop, who was ordained in 1975, has been a leading opponent of proposals to legalise same-sex marriage in Scotland and has also criticised ministers over anti-bigotry legislation.
He previously sent a strongly-worded submission to the first minister and said governments "do not have the authority to say what marriage is or to change its nature or to decree that people of the same sex can marry".
No Scottish government minister was invited to the service but the Catholic church insisted this had nothing to do with the current dispute.
Following the announcement of his appointment earlier this year by Pope Benedict, Archbishop Tartaglia said: "I am conscious of the historic place of the Archdiocese of Glasgow in the history of Christianity in Scotland and of its importance for the Catholic community in particular.
"It is a great honour for me to be appointed archbishop of my native city and diocese."
His predecessor, Archbishop Conti, was appointed in 2002, following the death of Cardinal Thomas Winning the previous year.