Farmer Tom McKellar fined over banned poison carbofuran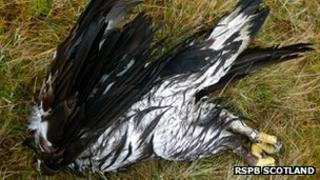 A farm manager from Argyll has been fined £1,200 for possessing a banned highly-toxic pesticide.
Tom McKellar, 50, from Bridge of Orchy, was found with carbofuran during a search of the Auch Estate in June 2009.
Police were alerted after a golden eagle was found dead on the slopes of Beinn Udlaidh, near Bridge of Orchy, after being poisoned with carbofuran.
A single grain of the substance can kill a bird, while a quarter teaspoon can be fatal to humans.
During searches at the Auch Estate, officers found quantities of carbofuran in three separate containers and traces of it within a syringe.
Guns found
They also found a dead fox, which had been poisoned, and a sheep carcass laced with carbofuran.
A Webley revolver and a Browning pistol were also recovered
When interviewed by police, McKellar indicated that he had, in the past, placed carbofuran on meat for foxes to eat.
Following the searches, McKellar pleaded guilty at Oban Sheriff Court in April to possessing carbofuran.
He also admitted, during an appearance at the High Court in Glasgow in November last year, four charges relating to the illegal possession of firearms.
McKellar was later sentenced to 300 hours of community service for these offences.
He was fined over possession of carbofuran during a further appearance at Oban Sheriff Court on Friday.
Following his fine, Craig Harris, head of the Crown's wildlife and environmental crime unit, said: "Carbofuran is an extremely toxic pesticide and even the tiniest amounts can be fatal to our wildlife.
'Very disappointed'
"Possession of carbofuran is illegal and those who unlawfully retain stocks can expect to be brought before the court.
"This conviction and sentence should serve as a warning to anyone who thinks about keeping this substance."
However, the RSPB's head of investigations, Ian Thomson, said it was "very disappointed" that no-one had been charged with poisoning the golden eagle.
"Whilst we welcome the conviction, yet again we are dismayed that the final result of a high-profile enquiry poses little in the way of a deterrent to those who continue to flagrantly disregard our wildlife protection laws," he said.
"The illegal killing of protected birds of prey remains a persistent problem in some parts of Scotland with, for example, six further golden eagles confirmed as illegally poisoned since this incident, including one in Lochaber earlier this year.
"We call upon the Scottish government to urgently review the penalties imposed by the courts on those who break our wildlife laws."