Fisherman escapes shark attack off Islay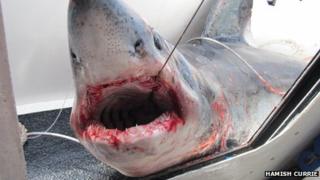 A fisherman has escaped a shark attack after his crew caught the fish off Islay in the Inner Hebrides.
The 7ft porbeagle took hold of Hamish Currie's steel toe-capped boot after the skipper hauled it on to the deck of his vessel.
Mr Currie, 53, from Saltcoats, Ayrshire, targeted the shark after hearing reports of it attacking seals.
He was left shaken after the shark clamped its jaws around his foot. It also bit a hole in his boat.
Mr Currie said: "A friend got in touch to tell me about the shark because I specialise in that style of fishing.
"I took a crew of three up there to look for it because it had been attacking seals in the area."
'One bad fish'
The team aimed to tag the fish, which is a member of the Mackerel shark family, and release it back into the water.
"This one was a bad, bad fish," Mr Currie said.
"He was nasty and got me by the foot. Luckily I was wearing steel toe-capped boots.
"I just couldn't shake him off, but eventually one of my crew managed to help me free.
"It was quite terrifying."
Mr Currie, who has vast experience of catching sharks and operates from Cushendall in Co Antrim, said this was his closest call to date.
"I was very lucky this time, it has definitely made me a little bit more wary of them."