Red flare protest over Clyde Coastguard closure plan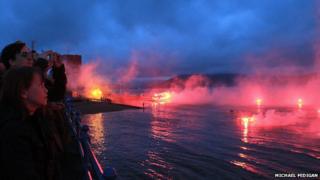 Red flares have been let off by a flotilla of ships in the Firth of Clyde in protest at the planned closure of the Clyde Coastguard station.
Campaigners fighting to save the centre in Greenock assembled commercial and leisure craft near the Navy Buildings in Greenock.
Clyde Coastguard is to close by the end of 2012 with the loss of 31 jobs. Work will transfer to a centre in Belfast.
UK ministers are closing eight stations as part of a modernisation plan.
Other centres set to close include Forth, Great Yarmouth, Liverpool, Thames, Swansea, Brixham and Portland.
John Houston, who founded the Save Clyde Coastguard campaign, said the closure of the station was imminent but it was important to stage a show of solidarity with staff.
'Show of thanks'
"Tonight's event is a show of thanks to the station and staff who have been responsible for saving countless lives over the years," he said.
"Everyone who supports the campaign feels very strongly that they should be retained.
"They were not the ones who caused the budget deficit which led to this and when the fallout from this closure will, unfortunately, cost lives in the west of Scotland."
Mr Houston said it was important that members of the public were aware that red flares were being used during the protest and show of thanks.
"Red flares are a distress signal but any members of the public seeing this near Greenock around 8pm should be aware what is going on," he said.
"If they see a red flare outwith this time, then it will be unrelated to our event and the emergency services should be contacted."