Glasgow streets close for Fast and Furious 6 filming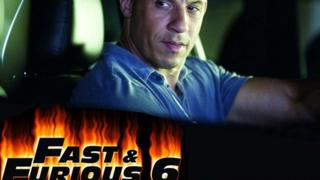 A number of streets in central Glasgow are set to close at night for the next three weeks to accommodate a Hollywood movie shoot.
Filming of Fast and Furious 6 is due to get under way in the city on 29 August.
Preparations for the filming will see temporary closures around Broomielaw, Cadogan Street and Wellington Street from 25 August to 16 September.
None of the lead cast members - Vin Diesel, Dwayne Johnson and Paul Walker - will be present during filming.
Glasgow City Council said there would be "minimal disruption" during the night time road closures and diversions would be put in place.
It said residents and businesses in areas where filming would take place had been consulted.
About 250 people will be involved in shooting scenes at night for the film.
Glasgow City Council Bailie Liz Cameron said: "It's great that yet another major film is being made in Glasgow, further proof of our status as the UK's most film-friendly city.
"I'm sure that people in Glasgow will be looking forward to seeing how our streets look in this movie, as they do in so many other films."
Brad Pitt
Several other Hollywood movies were shot in Glasgow last year.
Glasgow Film Office calculated those films and other productions boosted the city's economy by £20.15m.
Figures released in January showed the biggest contributor was the Brad Pitt zombie film World War Z, which brought £3.33m during its 17 days on location last summer.
Cloud Atlas, starring Halle Berry; Under The Skin, starring Scarlett Johansson; and TV production Young James generated almost £5.5m.
A further £2.2m was spent by low impact productions which had one or two-day shoots in the city.
Other films shot in the city in the past two years include Peter Mullan's Neds; Perfect Sense, starring Ewan McGregor and Eva Green; The Decoy Bride with David Tennant; and Irvine Welsh book Filth, starring James McAvoy.