Protesters target Scottish cabinet meeting in Renfrew Town Hall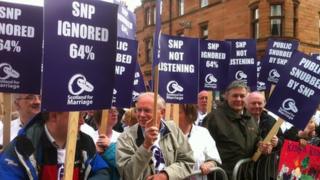 Opponents of gay marriage have staged a demonstration outside a meeting of the Scottish cabinet.
The group Scotland For Marriage staged the protest before the meeting at Renfrew Town Hall.
First Minister Alex Salmond and his ministerial team are taking part in a public question-and-answer session at the venue.
A protest was also planned outside the town hall against any SNP policy change on membership of Nato.
The party is due to debate reversing its long-standing opposition to membership of Nato at its annual conference in October.
The Scottish government was criticised by some faith groups after announcing plans for legislation to allow same-sex couples to marry.
Scotland For Marriage, which is backed by the Catholic Bishops' Conference of Scotland and the non-denominational Christian Institute charity among others, has described the proposals as "ill-conceived and poorly thought-out".
The campaign group will use the protest to raise fears that changing the law could see teachers disciplined if they refuse to use books about same-sex relationships.
A Scotland For Marriage spokesman said: "Parents may also find it difficult to withdraw children from classes.
"Our supporters are highly motivated and harbour deep fears for the future that if the marriage laws are redefined, gay marriage will be promoted to schoolchildren in Scotland."
Under Scottish government proposals, same-sex couples will be able to have a religious wedding, although Ms Sturgeon has stressed that no church or religious celebrant would be compelled to conduct such ceremonies.
Ministers are now having a "focused consultation" to consider what other protections could be included in the legislation.
A Scottish government spokesman said: "We have made clear that we will protect freedom of expression and religious freedom including in educational settings, and we are currently undertaking a focused stakeholder consultation to make sure that this happens.
"This will include consideration of any provisions that may be required to protect religious beliefs of teachers and parents in schools.
"Same-sex marriage will not be promoted through the national curriculum framework. We also intend to protect the current situation whereby the faith content of the curriculum in Catholic denominational schools is determined by the Scottish Catholic Education Service."