Serial killer Peter Tobin taken to hospital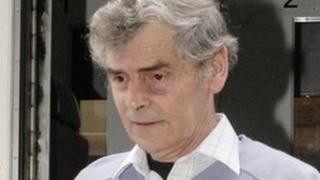 Convicted serial killer Peter Tobin has been taken to hospital after it is thought he suffered a heart attack.
The 65-year-old is serving three life sentences in Edinburgh's Saughton Prison for killing Vicky Hamilton, Dinah McNicol and Angelika Kluk.
The Scottish Prison Service confirmed an inmate from the prison was taken to hospital on Thursday afternoon.
Tobin was convicted of murdering 23-year-old Ms Kluk, a Polish student, at a church in Glasgow in 2006.
The following year, the bodies of 18-year-old Ms McNicol, from Essex, and Ms Hamilton, 15, from Redding in Falkirk, were found in the garden of Tobin's former home in Margate, Kent.
In 2006, Strathclyde Police set up Operation Anagram to establish whether Tobin could be linked to or ruled out of other crimes.