More Scottish jellyfish as temperatures rise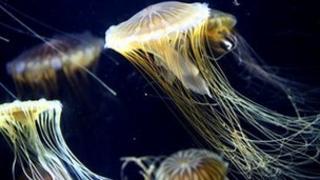 There has been an increase in sightings of jellyfish in Scottish waters in the past few weeks.
The Marine Conservation Society (MCS) said despite low numbers at the start of the summer, more jellyfish have been seen recently due to rising temperatures.
They include rising numbers of Lion's Mane jellyfish - the world's largest known species.
MCS has asked members of the public to take part in its Jellyfish Survey.
Lion's Mane jellyfish can reach a diameter of two metres, and has a nasty - although non-lethal - sting.
Dr Peter Richardson, MCS Biodiversity Programme Manager, said: "There have been more numbers of Lion's Mane jellyfish recently reported on the beaches in Ayrshire.
"This is the one that packs a pretty nasty sting, not lethal, but if you get stung by it it apparently it hurts and would really spoil your day.
"We always urge people to look but don't touch when they take part in our survey".
Dr Richardson said the warmer weather forecast for the rest of the month may well result in more jellyfish blooms in UK waters.
The aim of the MCS Jellyfish Survey is to understand more about where and when jellyfish occur around the UK.
It is part of a wider MCS programme to learn about leatherback turtles, who migrate thousands of miles to UK waters to feed on their favourite food - jellyfish - each summer.