Anger over no inquiry into Red Road asylum family deaths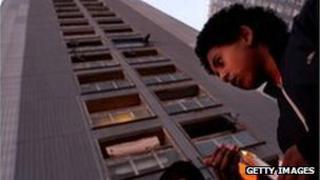 A charity has criticised a decision not to hold an inquiry into the deaths of three Russian asylum seekers who jumped from a Glasgow tower block.
Serguei Serykh, 43, his wife Tatiana, and Mr Serykh's stepson, Stepan, 19, died after falling 15 floors at the Red Road flats in Springburn in March 2010.
Positive Action in Housing said the Crown Office decision was unacceptable.
It said the Serykh family's deaths would "remain open to speculation".
The family first arrived in the UK in 2007 and had been living at the tower block at 63 Petershill Drive, which was let to the YMCA, since 2 February 2010.
'Extensive investigation'
Their application to remain in the UK had been refused and they had been told they had to leave their flat.
The family had not, however, been issued with a removal order at the time of their deaths.
In a short statement, the Crown Office said that it had completed its "extensive investigation" into the deaths of the Serykh family on 7 March 2010.
The statement concluded: "The matter was reported to Crown Counsel, who have fully considered all the circumstances and have concluded that it is not in the public interest to hold a fatal accident inquiry."
The Crown Office said that the nearest relative of the family had been advised "of the circumstances of the tragedy and Crown counsel's decision".
Positive Action in Housing director Robina Qureshi said it was "unacceptable" that the Crown Office was "not prepared to investigate the clear questions surrounding the role of the UK Border Agency (UKBA) and the UK asylum system in the deaths of the Sehryk family".
She said: "Serguei Serykh was formerly a senior member of the Russian military intelligence who fled Russia and then Canada, and who, along with his family, was living in constant fear of return, according to all accounts.
"The family fell to their deaths...on the same day that the UKBA stripped them of their accommodation and meagre state benefits.
"The UKBA also refused the family the right to paid work or even emergency shelter anywhere in the UK."
Ms Qureshi said the charity wanted an inquiry "to examine these questions in an open, transparent and accountable manner".
She added: "Unfortunately, the Lord Advocate has decided there will be no scrutiny of the UKBA and its asylum policy.
"The factors contributing to the deaths of the Serykh family are open to speculation, and the UKBA remains unaccountable for its actions at the time the mother, father and son fell to their deaths."