Tommy Sheridan to keep tag as souvenir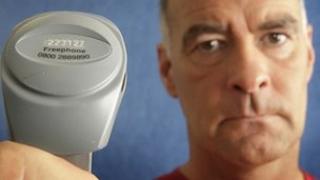 Former MSP Tommy Sheridan has said he is keeping his electronic tag as a "wee souvenir" of his time as a prisoner.
Mr Sheridan had the tag removed on Thursday morning after serving the last six months of his sentence for perjury on home-detention curfew.
He was freed from Barlinnie prison in January, where he spent just over a year of his three-year sentence.
He had been convicted of lying under oath during his defamation action against the News of the World in 2006.
Mr Sheridan, who once appeared on Celebrity Big Brother, had been awarded £200,000 in damages on winning the civil case, but a jury at the High Court in Glasgow said he lied about the now-defunct tabloid's claims that he was an adulterer who visited a swingers' club.
Family and friends of the politician gathered at his solicitor's office in Glasgow to see him show off the tag.
He joked that being freed from the restrictions of staying inside his house from 19:00 to 07:00 had its downsides.
"I have now been told I can keep it as a wee souvenir", he said.
"It will be very exciting tonight to be able to go out after seven o'clock for the first time for six months. I have no excuse not to take the bins out, which is a problem. But hey, every shackle being unshackled has good sides and bad.
"It does feel quite liberating. I have been a house prisoner for six months and obviously I have been a physical prisoner for a year before that. It has been a long 18 months."
Mr Sheridan's trial was one of the longest of its kind in Scottish legal history.
He was convicted of five out of six allegations in a single charge of perjury, relating to his evidence during his civil action at the Court of Session in Edinburgh.
During the three-month High Court trial, Mr Sheridan said he was the victim of a "vendetta" by the police and a "conspiracy" involving the Sunday tabloid and former colleagues within the Scottish Socialist Party.
'Independence campaign'
He now intends to launch a fresh appeal against his conviction, saying he expects to be "an innocent man" in nine months' time.
Mr Sheridan, a founding member of the Scottish Socialist Party but now co-convener of the Solidarity party, added that he has not yet ruled out a return to the frontline of Scottish politics.
Asked if he planned to stand for office again, he said: "There's a while to contemplate that. I'll certainly not write myself off just yet. I think there might be a few years left in me yet. I look very much forward to getting more involved with Solidarity."
Mr Sheridan said he would be getting involved in the campaign for Scottish independence, ahead of the referendum expected in autumn 2014.