Glasgow's 'first' Peregrine chick raised in Red Road flats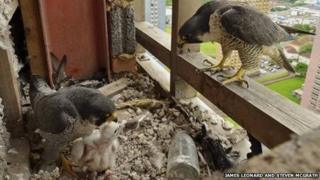 Two birds of prey who set up home in Glasgow's Red Road flats have raised what is believed to be the city's first ever peregrine falcon chick.
The birds nested on the 24th floor of a 27-storey building in Petershill Court, which is due to be demolished.
With the help of RSPB Scotland, measures were put in place to protect the birds who produced two eggs, only one of which hatched.
The peregrine falcon chick left the nest on 12 July.
Local resident Steven McGrath described how he first spotted the birds: "I'd noticed the peregrines were spending a lot of time around the flats.
Nesting box
"As the first block was due to be demolished I was concerned the birds might be at risk if they decided to nest within them, so I decided to contact RSPB Scotland and others for advice.
"I've never heard of these birds breeding in Glasgow so I wanted to do everything I could to make sure they were successful."
By law it is illegal to disrupt breeding birds, so to assist the nesting pair, Glasgow Housing Association (GHA) and demolition contractor Safedem funded a purpose-built nesting box for the adult peregrines at a nearby block of flats at Red Road.
The nest was constructed and installed by Central Scotland Raptor Study Group, assisted by RSPB Scotland staff.
Despite their efforts, the adult peregrines decided to stick with their original nesting site, where in spring they went on to lay two eggs.
Mr McGrath and volunteers from the raptor group, installed a research camera to monitor the nest, where one egg hatched.
William Sinclair, Safedem managing director, said: "Our staff at Red Road kept in regular and close contact with Steven and the RSPB officers.
"We provided protective measures and controlled access to the building in order to monitor and record the progress of our peregrine family.
"I'm delighted that, with such care and commitment from everyone involved, our peregrine chick is thriving."
After leaving the nest or fledging, the young bird will continue to be fed by its parents for another four to eight weeks, after which they will normally leave the area.