Paul and Adam Christie admit murdering Brian Faulds in Dalmarnock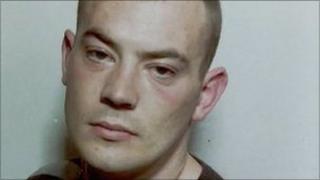 Two brothers have admitted murdering a man and dumping his burned body near a bridge over the River Clyde in Glasgow.
Brian Faulds, 29, was found near Dalmarnock Bridge on 28 September 2011.
Paul Christie, 29, and Adam Christie, 27, pleaded guilty to murdering him at a flat in Dalmarnock Road in September.
Younger brother Bryan, 22, admitted attempting to defeat the ends of justice by helping to move Mr Faulds's body. Sentence on all three brothers, who are in custody, was deferred.
Paul and Adam Christie entered guilty pleas during the second day of their trial at the High Court in Edinburgh.
The court heard how they bound Mr Faulds with tape and repeatedly punched and kicked him on the head and body and repeatedly struck him with a knife, cleaver, axes, a hammer and baseball bat.
Wallpaper removed
Bryan Christie was originally charged with the murder but the Crown accepted his not guilty plea.
All three men admitted attempting to defeat the ends of justice in the wake of the murder between 27 September and 7 October last year.
They bound Mr Faulds's body with tape and wrapped it in a blanket and carpet and put a pillowcase over his head.
In a bid to remove traces of blood and body tissue from the scene, wallpaper was removed from walls of the flat, paint applied and bleach poured on walls, floors and surfaces.
The corpse was put in the wheelie bin and moved from the murder scene to an embankment next to the Clyde Walkway where it was taken out of the bin.
An accelerant was applied and the body set on fire. Weapons such as a cleaver and axes were also disposed of.
The court heard that Joseph McQueen, 36, had found human remains that had been set on fire at the Clyde Walkway on 28 September.
He was taken to hospital suffering from shock after making the discovery while walking from his home in the city's Parkhead area to Rutherglen, South Lanarkshire.
The forklift driver said he had at first thought that someone had set fire to rubbish after his attention was drawn to smoke.
"I thought it was rubbish that was burning. It was just a small amount of smoke. I looked at it and noticed it was a body," he told the court.
'Terrible state'
Mr McQueen said he tried to find out if the person was still alive by shouting at them but got no response.
He made a 999 call and the jury heard him tell an operator: "I've just walked by him. He's on fire. He's in a terrible state." He also said: "I think he's dead."
Police and paramedics went to the scene.
PC Gordon Reid, 35, was one of the first officers to meet Mr McQueen at the site.
He said: "He was very distressed. He was visibly upset."
After the Christie brothers entered their guilty pleas, judge Lord Tyre told the jury he was able to discharge them.
He said: "From the very little evidence you have seen and heard of this trial I am sure you have seen this would not have been a pleasant or enjoyable experience."
The judge said he would have to consider the sentences for all three brothers but would firstly hear the circumstances of the offence.