Rangers lost almost £4m while in administration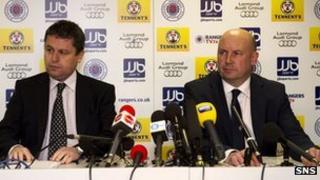 Rangers Football Club lost almost £4m from the time it was placed in administration until the end of June.
An interim creditors report from joint administrators at Duff and Phelps has revealed trading losses at the Ibrox club of £3,956,375.
The report also shows administrators fees from 14 February up to the 29 June 2012 of just over £2.8m.
Rangers assets were sold to the Charles Green consortium for £5.5m after a deal with creditors could not be reached.
The club, which dates back to 1872, will now be wound up by liquidators BDO after a thorough investigation into its financial affairs over the past few years.
The report, issues on Wednesday, reveals that the Charles Green Consortium paid just over £2.7m for Rangers player contracts and registrations.
Some of the previous squad have elected to transfer over to the new company (newco) which he is attempting to have placed in the lower divisions of the Scottish Football League (SFL).
Other players have elected to transfer to other clubs, claiming they are free agents with old Rangers facing liquidation - this claim is contested by Mr Green.
The creditors report also reveals a legal claim for more than £25m by Duff and Phelps against former owner Craig Whyte's lawyers Collyer Bristow is now unlikely to be heard until summer of autumn of 2013.
Duff and Phelps also state that they hope to claw back at least half of the £223,214 value of the Arsenal shares, that Rangers owned, which were sold by Pritchard Stockbrokers during Mr Whyte's tenure at the club.