London 2012: 50,000 free tickets for Olympic football at Hampden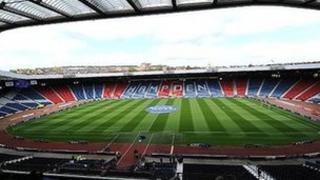 Young Scots have a chance to apply for 50,000 free tickets for eight Olympic football matches at Hampden.
The tickets will go to sports clubs, charities and youth projects via the London 2012 Ticketshare scheme, which is funded through hospitality packages.
The three men's games involve Honduras, Morocco, Japan and World Cup holders Spain. The five women's games involve USA, France, Colombia and Korea DPR.
The matches will be played from 25 July to 3 August.
The Ticketshare allocation was announced by Deputy First Minister Nicola Sturgeon during a visit to Hampden Stadium.
She said: "This is an exceptional opportunity for children and young people in Scotland to be part of the whole Olympic experience and to encourage their participation in sport.
"These matches will have a unique Olympics atmosphere, and provide the ideal family day out, with world class matches, including the reigning Euro 2012 champions Spain.
"It's a fantastic chance to promote Scotland to a global audience - every country playing at Hampden will be made to feel enormously welcome."
The first games to be played at Hampden will include
the women's preliminaries on 25 July - USA v France will kick off at 17:00, followed by Colombia v Korea DPR at 19:45
on 26 July there will be two men's preliminaries - Honduras v Morocco will kick off at 12:00, followed by Spain v Japan at 14:45
two more women's preliminaries will be held on 28 July - USA v Colombia will kick off at 17:00, followed by France v Korea at 19:45
the final men's preliminary to be held at Hampden will be on 1 August, where Egypt v Belarus will kick off at 14:30
the last Olympic football match to be played at Hampden - the women's quarter final - will take place on 3 August at 12:00. The winner of Group F will play the runner-up of Group G.
Tickets for all of the matches are still available for purchase.