Orange marches in Glasgow lead to 36 arrests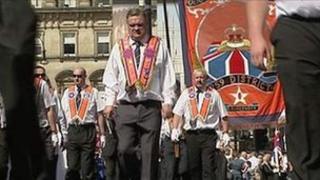 Strathclyde Police have said that 36 people were arrested during a number of orange marches on Saturday.
Police had warned people planning to attend the largest parade, in Glasgow, that sectarian and anti-social behaviour would not be tolerated.
About 8,000 marchers passed through the city centre for the Grand County Orange Order Parade.
Strathclyde Police said officers would target people who caused disorder and were drinking to excess.