Tourists and baby rescued from floods on Isle of Mull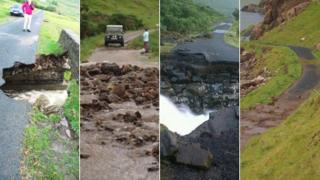 More than a dozen tourists including a baby have been rescued from flash flooding on the Isle of Mull.
The 13 adults and 14-month-old boy were taken to safety in boats after two bridges were washed away and a road was blocked by a landslide.
No-one was injured during the incident which happened at 20:00 on Thursday.
The B8035, where the visitors were stranded in their vehicles near Knock, is now closed in both directions with a long diversion in place.
The tourist, who come from England, Germany, Switzerland, New York and Hong Kong, were taken by boats to the local Benmore Estate before being given accommodation for the night in local hotels.
The B8035 will be opened for one hour on Friday night to allow the rescued motorists to retrieve their six vehicles.
It is then expected to remain closed for some time.