Top engineering award for Clydebank's Titan Crane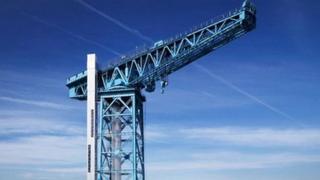 The Titan Crane at Clydebank has been given a prestigious engineering award to recognise its status as the oldest crane of its type in the world.
The visitor attraction received an Institution of Mechanical Engineers' Engineering Heritage Award on Thursday.
Previous winners include Tower Bridge in London, the Vulcan bomber and the Paddle Steamer Waverley.
The Titan was built at a cost of £24,600 by Sir William Arrol & Co and completed in 1907.
It was used to lift heavy equipment at John Brown shipyard on the River Clyde.
Blitz survivor
The Titan helped with the construction of warships and vessels such as the Lusitania and the QE2.
The historic structure also survived the Clydebank blitz unscathed despite being a target for German bombers.
In 2007, the Grade A-listed structure was refurbished as a tourist attraction and museum about shipbuilding in Clydebank.
The £3m restoration saw a lift installed to bring visitors up to the Titan's 150-ft high jib platform.
The award was presented to members of the Titan Clydebank Trust board.
John Wood MBE, chairman of the Institution of Mechanical Engineers' heritage committee, said: "The Clydebank Titan Crane is a magnificent example of mechanical engineering, which forms an integral part of the local landscape.
"This award is being presented to the Titan Crane to celebrate its position as the oldest crane of its type in existence. The Clydebank Titan is one of only 13 Titan cranes that remain in the world.
"This award doesn't just celebrate the great work of Sir William Arrol and Company and the team who built the crane but also an award to celebrate the fantastic work of Clydebank re-built to restore it and open it up to the public."