Glasgow St Mark's school fire leads to asbestos scare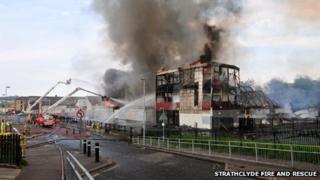 A clean-up operation has been launched after asbestos fibres were found in the guttering of houses near a derelict school destroyed by fire.
The former St Mark's Primary School, in Muiryfauld Drive, Shettleston, is being demolished following the deliberate blaze on 22 May.
Glasgow City Council has engaged contractors to handle the clean up.
Drew Smith, Labour MSP for Glasgow, said the situation had "caused considerable fear and alarm".
"We need to ensure a thorough clean-up and full information for worried residents," he said.
Safety issues
"I have asked the city council to confirm that everything that can be done is being done.
"Local people must be satisfied that there are no outstanding safety issues."
St Mark's Primary was closed in late 2010 and lay derelict until it was set alight by vandals in May.
At the height of the blaze, nearby houses were evacuated as a precaution while more than 30 firefighters brought the blaze under control.
The remains of the building were later deemed unsafe and it was ordered to be demolished.
Help service
Asbestos fibres were later identified in the surrounding area.
Meanwhile, Thomsons Solicitors, which has represented many victims of asbestos-related illness, has set up a dedicated service to help worried residents.
The firm's Chris Gordon said: "Breathing in just a small amount of asbestos dust can put your health at serious risk.
"It's a silent killer - it can be in your system for many years before symptoms show.
"We're committed to the local community and we're on-hand to provide assistance to anyone concerned with these recent developments."
The council has confirmed that work is being carried out.
A spokesman said: "We expect the work to clean gutters, which is currently ongoing, to be complete sometime next week.
"We have apologised to residents for the disruption, which is the result of a fire which was started deliberately."