David Grimason takes arms treaty campaign to UN talks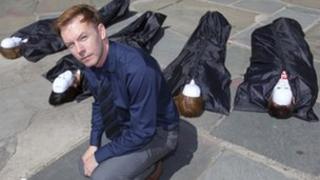 A Scottish man whose toddler son was shot dead in a cafe in Turkey has taken his campaign for a global arms treaty to the United Nations.
David Grimason has been calling for tighter controls on the trade of weapons since his two-year-old son was killed on a family holiday in 2003.
Alastair was asleep in his pram when a gunfight broke out in a cafe.
Mr Grimason has travelled to the UN's headquarters in New York as part of a group from Oxfam.
He is attending the first-six days of a month-long conference on arms trading.
The 40-year-old from East Kilbride said: "We've waited so long for these final talks to get under way.
"The world has been calling for an Arms Trade Treaty for more than 10 years and it's now six years since the UN process got under way - they must now deliver.
"I am here because of what happened to my son Alistair, but I have also seen for myself the impact of arms around the world.
"For Alistair, and the other innocent victims, I urge the delegates meeting here to agree the strong treaty we all know is so urgently needed. There is no better chance to end the killing."
Oxfam said one person dies every minute because of armed violence, with millions more injured and forced into poverty.
The charity believes the problem is fuelled by poor regulation of the global arms trade.
Mr Grimason joined campaigners from around the world at a stunt to mark the start of the final negotiations.
Body bags were laid out in front of the UN building to symbolise those who die as a result of armed violence.