Rangers in crisis: Fans hold Ibrox protest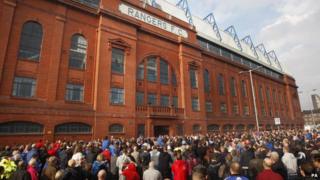 More than 1,000 Rangers fans have staged a protest outside Ibrox Stadium over the situation at the club.
Some supporters are angry with the Charles Green consortium, which bought the club's assets after it could not be saved from liquidation.
Former player John Brown aims to lead a bid for the club on behalf of fans and urged them not to buy season tickets under the current regime.
Brown appeared at the protest and spoke to the crowd.
Earlier on Wednesday he said : "We don't want to buy in with Charles Green. The Rangers fans are going to buy out Charles Green's consortium."
The protest was organised by supporters' group the Union Bears, which said: "We demand answers from Mr Green immediately. The situation is critical and we as fans must act now."
Banners tied to railings across the road from Ibrox said: "Rangers fans demand answers" and "Murray, Whyte, Green. Same face different name".
Rangers players are due back at training on Thursday morning for the first time since the formation of the newco and the imminent liquidation of the old company.
Several players have already made it clear they will not be part of the newco.