NeverSeconds blogger Martha Payne raises £100,000 for Mary's Meals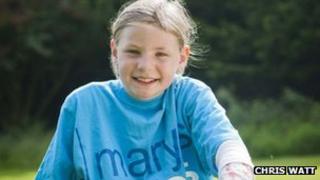 School dinners blogger Martha Payne has succeeded in raising more than £100,000 for the charity Mary's Meals.
The nine-year-old became an internet sensation after Argyll and Bute Council banned her from posting photos of her school meals online.
The schoolgirl, who had originally hoped to collect £7,000, has also now recorded more than six million page views on the NeverSeconds blog.
Martha said: "This is totally awesome and will help so many hungry children."
She began publishing photographs of her Lochgilphead Primary School lunches on 30 April.
She gives each meal a 'food-o-meter' and health rating, and counts the number of mouthfuls it takes her to eat it.
Last week the schoolgirl was told to stop posting the pictures online as Argyll and Bute Council said press coverage of the blog had led catering staff to fear for their jobs.
However, after a worldwide response to the story - including support from celebrity chefs Nick Nairn and Jamie Oliver - the ban was lifted.
Earlier this week Mary's Meals announced that a school kitchen would be built in Malawi and named in honour of Martha.
The charity said the nine-year-old was planning to celebrate hitting the £100,000 mark by holding a small porridge party with her family and tasting likuni phala, the nutritious porridge-like dish which Mary's Meals feeds to children at its largest project in Malawi in order to attract them to the classroom.
It costs Mary's Meals about £10.70 to feed a hungry child for an entire school year.
Magnus MacFarlane-Barrow, founder and chief executive of Mary's Meals, said he was humbled by Martha and her friends.
He added: "This is incredible and I can't thank Martha and her supporters enough for everything they have done.
"As a result of their amazing beautiful acts of kindness, the lives of thousands of the world's poorest children will be transformed."