Malawi kitchen named in honour of NeverSeconds blogger Martha Payne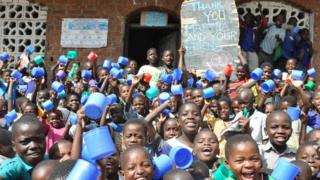 A school kitchen is to be built in Malawi and named in honour of school dinners blogger Martha Payne.
The nine-year-old became an internet sensation after Argyll and Bute Council banned her from posting photos of her school meals on her blog.
The ban was later overturned after a storm of protest.
She has now raised more than £80,000 for the charity Mary's Meals and recorded more than five million page views on the NeverSeconds blog .
Martha began publishing photographs of her Lochgilphead Primary School lunches on 30 April.
She gives each meal a 'food-o-meter' and health rating, and counts the number of mouthfuls it takes her to eat it.
Last week she was told to stop posting the pictures online.
Argyll and Bute Council said press coverage of the blog had led catering staff to fear for their jobs.
However, after a worldwide response to the story - including support from celebrity chefs Nick Nairn and Jamie Oliver - the council's leader announced that he had instructed senior officials to lift the ban.
The schoolgirl has been using the blog to raise money for the Mary's Meals charity.
By Monday morning donations had soared to about £82,000. Martha had originally set herself a target of raising £7,000.
Posting on her blog in response to the rocketing fundraising total, Martha said: "A small thank you isn't enough so here's a big THANK YOU to you all!"
Mary's Meals said it would use some of the money to build a new kitchen shelter and feed an entire school for a year at Lirangwe Primary in Blantyre, Malawi.
Martha has decided to name it "Friends of Never Seconds". She said she wanted to give credit to all those who had donated.
She added: "It's really good because it can feed lots of children for a long time."
Children at the school in Blantyre have been showing their appreciation for Martha and those who have supported her.
On the blackboard at their school, they wrote: "Thank you Martha and your friends" and sang songs for the schoolgirl.
Magnus MacFarlane-Barrow, founder and chief executive of Mary's Meals said: "I am humbled by Martha and her friends. We feel extremely proud of them.
"Because of what they are doing, and all those generous people who are donating, the lives of thousands of the world's poorest children will be transformed.
"For every £10.70 donated, we are able to ensure another child will get a good daily meal for a whole school year."