Homes evacuated after fire at Biffa Treatment Centre in Kilsyth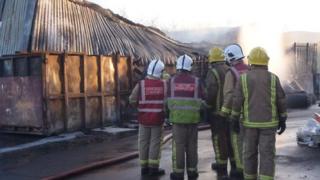 A number of homes were evacuated in North Lanarkshire after a fire at a chemical storage warehouse in Kilsyth.
Strathclyde Fire and Rescue said 12 people were led to safety after the blaze broke out at about 02:20 at the Biffa Treatment Centre.
Fire crews said the affected building contained a range of chemicals, which they were still working to identify, assisted by Biffa management.
The brigade said residents had since returned to their properties.
A fire service spokesman said that any water used to tackle the blaze was contained within the site to protect the nearby River Kelvin and surrounding farm land from possible contamination.
The incident resulted in the B8023 being closed while about 30 firefighters dampened the flames at the waste disposal facility.
The fire service spokesman said: "Strathclyde Fire and Rescue and Biffa management are working closely with representatives from the Scottish Environmental Protection Agency (Sepa) who are on scene to ensure all necessary steps are taken to protect the environment in the surrounding area.
"Firefighters remain at the scene dealing with small pockets of fire and the incident is contained within the site with no risk to the general public."
Police and the fire service will carry out a joint investigation into the cause of the blaze.