Warning over unofficial Jubilee party in Kelvingrove Park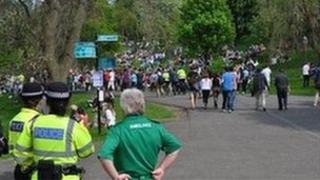 Scotland's largest council has warned against revellers staging an unofficial Jubilee party after a similar event last year ended in violence.
Glasgow City Council said it was aware that information has been circulating on social networking sites regarding a potential party in Kelvingrove Park.‬
It said anyone attempting to enter over the weekend with alcohol or a PA sound system would be turned away.
An unofficial Royal wedding party last year attracted more than 4,000 people.
About 100 police officers were called in after trouble flared. They made 22 arrests, with 11 officers being hurt during the disturbance.
Glasgow City Council said afterwards the cost of cleaning up the park was about £25,000.
The local authority has warned anyone attempting to stage a similar event this year will be refused entry to Kelvingrove and that "park management rules will be rigorously enforced".