Fire at former St Mark's Primary School 'started deliberately'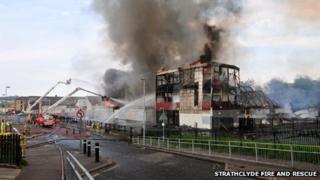 A major fire at a derelict school in the east end of Glasgow was started deliberately, police have said.
Emergency services were called to the former St Mark's Primary School, in Muiryfauld Drive, near Tollcross Park, at about 14:15 on Tuesday.
Some nearby houses were evacuated as a precaution as more than 30 firefighters brought the blaze under control.
Strathclyde Police said the fire was "wilful" and that what remains of the building "will have to be demolished".
Thick smoke
Det Sgt Roland Craig said: "The building will remain unsafe until demolition has been carried out.
"I am anxious to speak to anyone who was in the area around 2pm yesterday afternoon and saw anything suspicious.
"Three male youths were seen at the school around the time of the outbreak of fire and I would ask them to come forward in order that they can be eliminated from this investigation."
Det Sgt Craig said the only description is that one of the youths was wearing an orange top and the other a white hooded top.
Strathclyde Fire and Rescue said that the derelict primary was well ablaze when crews arrived on Tuesday afternoon.
More than 30 firefighters battled the flames and thick black smoke. Crews who entered the former school were forced to withdraw due to the intensity of the fire.
Part of the building collapsed as firefighters continued to tackle the blaze.
Some houses downwind of the fire were evacuated as a precaution, while other residents were advised to stay indoors and close their windows.
Those who left their homes were allowed to return on Tuesday night.
During the firefighting operation, it was confirmed that there was asbestos in the building.
The fire service carried out air quality checks which confirmed there was no immediate risk to local residents.
A number of roads near the school were closed.