'No change' after uncounted votes for Glasgow Langside ward examined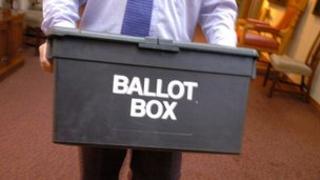 There is no change to the result of a Glasgow City Council ward after votes were recalculated to include a ballot box that was not counted.
The Battlefield Primary polling station box was wrongly registered as having no votes for the Langside ward at the recent local elections.
The result was recalculated on Tuesday evening.
A short statement from the council on Twitter said: "There is NO change to the declared result."
The only councillor who could have been affected was the Greens' Liam Hainey, who could have potentially lost his seat.
After the recalculation, Mr Hainey said: "I am pleased that all of the voters of Langside have had their ballots counted, and delighted that this has confirmed my election as their councillor, and I will continue to serve them to the best of my ability."
Returning officer George Black was granted permission at Glasgow Sheriff Court to rerun the count.
He told candidates that he was investigating how the mistake was made and apologised for any concern it caused.
Green council group leader Martin Bartos said: "Once again the result confirms that the Greens are the third party in Glasgow.
"We are however very concerned that the situation could have arisen at all. We have been asking questions about how this happened and are waiting for a full report into this from Mr Black.
"We will be pressing for measures to prevent a repeat of this situation."