Votes in ballot box for Glasgow Langside ward not counted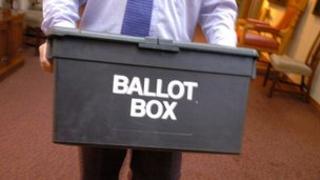 The result of a Glasgow council ward could be in doubt after it emerged that a ballot box was not counted during last week's local government elections.
The Battlefield Primary polling station box was wrongly registered as having no votes for the Langside ward.
Glasgow City Council is seeking court approval to look at the votes. If they impact on the results, more court approval is needed to re-run the count.
The only councillor who may be affected is the Greens' Liam Hainey.
The ballot was conducted under the proportional representation system of single transferable vote (STV).
This sees voters rank candidates in order of preference. Unsuccessful candidates are eliminated after each count, with votes being distributed among remaining candidates.
This process continues until all seats on each council ward are filled.
Wrongly verified
Following last Thursday's poll, Labour's Archie Graham and the SNP's Susan Aitken were returned during the first count on the number of first preference votes.
Their number of first votes was large enough to discount any impact from the uncounted ballot box.
However, those votes could impact on Cllr Hainey's election.
BBC Scotland understands that the Langside ward ballot box was wrongly verified as containing no votes. It is not known who made this error or how it happened.
The council is now set to seek court approval to look at those votes and enter them into the counting system to establish what would have happened if they had been counted.
If they would have changed the result for Cllr Hainey, the council will need further court approval to formally re-run the count for the whole Langside ward.
Returning officer George Black met the elected members from Langside on Thursday and briefed them on the mistake.
He has also written to all the candidates who stood in the ward and his staff have contacted them by telephone.
Mr Black told them: "It is therefore my intention to enter those ballot papers into the system and re-run the calculation to ensure that the result is accurate.
"I am currently investigating how this mistake happened. Obviously I will keep you updated as more information becomes available.
"However, as the returning officer I am responsible for the running of the election and the count and I want to take this opportunity to apologise to you for any concern this will cause."