Blackburn's David Goodwillie gets 12 months probation for assault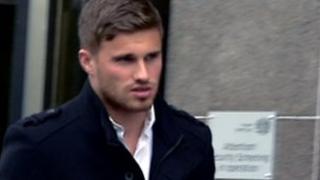 Scotland and Blackburn striker David Goodwillie has been given a 12-month probation order after admitting assaulting a man in Glasgow.
The 23-year-old forward attacked John Friel in the city's Queen Street on 3 November 2010.
The court heard he lashed out after his then Dundee United team mate Danny Swanson was knocked unconscious by Friel.
Sheriff Stuart Reid also ordered him to carry out 80 hours of unpaid work.
Goodwillie, who played with his team on Sunday during the defeat by Tottenham Hotspur appeared in the dock at Glasgow Sheriff Court less than 24 hours after the final whistle.
The court had previously heard the premier league star had been at a takeaway shop in Queen Street at 04:00 when a disagreement broke out between his friends and another group of men.
Danny Swanson was knocked out by Friel - an attack Goodwillie's defence QC Donald Findlay described as "cowardly" and "brutal".
Difficulty breathing
CCTV footage of the incident showed Goodwillie confronting Friel and punching him on the head and body.
The court was told that Mr Swanson suffered from a medical condition.
As he lay on the pavement after being attacked by Friel, he had difficulty breathing and there was concern that his life may be in danger.
Friel was given 240 hours of community service last August after he admitted to the assault on Mr Swanson.
Mr Findlay told the court it was "difficult" for young men who have high profiles "thrust upon them" to cope.
He said Goodwillie realises he must learn to deal with situations that he is confronted with and is "keen to make the most of the talent he has been given".
The footballer was fined in 2009 after he admitted attacking a rugby player following a row at a nightclub car park in Stirlingshire.
Passing sentence Sheriff Reid said: "Among other factors I take account of the fact you were convicted of an assault less than 12 months prior to this particular offence and the fine and compensation order imposed did not appear to have the affect of deterring you.
"Instead, your offending was repeated and, it may be said, escalated in severity."