Casualty packs released for sunken carrier HMS Dasher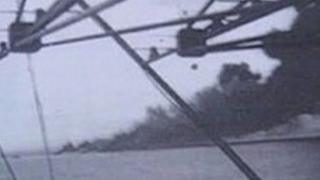 Confidential documents relating to the sinking of an aircraft carrier in the Firth of Clyde are to be made public by the Ministry of Defence (MoD).
HMS Dasher sank off the coast of Ardrossan on 27 March 1943 with the loss of 379 of her 528 crew.
Campaigners attempting to discover why the ship sank have been trying to get the release of Royal Navy casualty packs relating to HMS Dasher.
The MoD confirmed these would soon be transferred to the National Archives.
The change was revealed in a letter to Katy Clark, the Labour MP for North Ayrshire and Arran, whose constituency includes the town of Ardrossan.
'Unanswered questions'
Ms Clark said: "I am delighted that the MoD has decided to make the HMS Dasher casualty packs public.
"Many questions surrounding the sinking of HMS Dasher have been left unanswered for far too long.
"Some relatives of those who died have been waiting for over 69 years to find out exactly what happened to their loved ones.
"I very much hope that the full facts surrounding this tragedy can now be brought to light and those searching for the truth are able to finally obtain some form of closure."