Glasgow University academic elected to Royal Society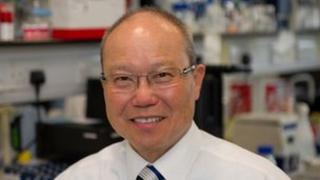 A Glasgow University academic has been elected a Fellow of the Royal Society.
The honour recognises Professor Foo Yew Liew's pioneering work in the field of immunology and inflammatory diseases in a career spanning four decades.
His breakthroughs include the discovery of T cell heterogeneity, which led to a greater understanding and treatments of the disease, Leishmaniasis.
Professor Liew also pinpointed the role that Nitric Oxide plays in regulating the body's immune system.
His research is considered to have enhanced scientific understanding of how the body's immune response protects against diseases, opening the door to the development of more effective therapies.
Professor Liew, who is known as Eddie, arrived at Glasgow University in 1991. He is now a senior research fellow and Gardiner Professor of Immunology.
He was also the founding director of the university's Biomedical Research Centre.
The Royal Society is the world's oldest scientific body in continuous existence since 1660.
Its prestigious lifetime fellowships are awarded to the most eminent leaders in the fields of science, engineering and technology, and are considered one of the highest honours available to academics.
Professor Liew now joins an elite club which includes Stephen Hawking, Richard Dawkins and Sir Paul Nurse.
"It's an honour to be recognised by the Royal Society," he said.
"My time at the University of Glasgow has been very fruitful and I hope that I have made some real contributions to the biomedical sciences here."
Professor Anna Dominiczak, head of the College of Medicine, Veterinary and Life Sciences, added: "Being elected as a Fellow of the Royal Society is the pinnacle of the academic career for any scientist.
"Professor Liew is one of the foremost figures in his field and this accolade is a testament to the depth and breadth of his work in biomedical sciences and richly deserved."