Police probe over NHS Ayrshire and Arran patient death records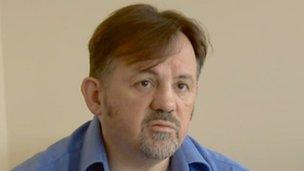 Police are investigating whether a health board deliberately covered up the circumstances surrounding the deaths of more than 20 patients.
NHS Ayrshire and Arran withheld more than 50 reports from staff on serious incidents at its hospitals and clinics.
Its conduct emerged in February after nurse Rab Wilson pursued the matter with the information commissioner.
Ministers have already ordered an investigation. Strathclyde Police will now decide if there was criminality.
A statement from the force said: "Strathclyde Police is in receipt of information supplied by Mr Wilson and is currently assessing it to identify whether or not there is any criminality.
"The assessment process will be completed at the earliest opportunity."
Critical incident and significant adverse event reports are compiled whenever anything goes wrong in the health service to establish exactly what happened and what can be done to prevent the mistakes being repeated.
However, for at least five years, NHS Ayrshire and Arran withheld the results of the internal inquiries - even from its own staff.
Mr Wilson, who is employed by the health board, became concerned when he was involved in a critical incident, but never received a copy of the findings.
He was told he was not entitled to read the report, and would have to apply under Freedom of Information (FOI) legislation.
When Mr Wilson did make an FOI request, he was told by the health board that the reports were exempt from disclosure because of patient confidentiality.
Realising that dozens of similar reports had also been withheld, Mr Wilson appealed to the information commissioner, who ordered the health board to release anonymised versions of the reports.
The more serious incidents included in the documents involved three missed chances to diagnose cancers; the death of a patient who was trapped in a faulty lift; a death which followed inadequate treatment of a leg wound; and two cases where psychiatric patients murdered or attempted to murder a relative.
Following the release of the reports, Health Secretary Nicola Sturgeon ordered an investigation into procedures at NHS Ayrshire and Arran by Healthcare Improvement Scotland.
Related Internet Links
The BBC is not responsible for the content of external sites.