Fire at Glasgow's Alfa Wholesale cash and carry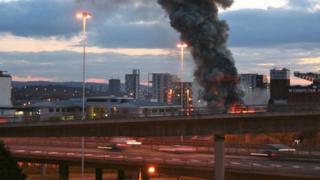 An investigation is to be carried out into a large fire which broke out in commercial premises close to the centre of Glasgow.
More than 30 firefighters from Strathclyde Fire and Rescue tackled the blaze at the Alfa Wholesale cash and carry on Lancefield Street, Finnieston.
Smoke and flames were visible over a large part of the city centre after the fire took hold at about 20:30.
Police said no-one was injured in the incident.
Eyewitness Bobby Pagipalli said he saw dark smoke when the fire first started.
"There was a really heavy smell earlier from the fire, although it's gone now. It was a smell of mixed oil - very strong." he said.
"I used to go to the cash and carry. They're a big place, and they sell drinks, food and also all sorts of cooking oils, vegetable oil, sunflower oil."
Student Jonas Kiselis, who lives about 200m from the fire, said: "The smell is like the burning of rubber, autocar tyres or plastic. But the smoke is not being blown in my direction, it's going high into the sky."