Giant hull sections of Queen Elizabeth carrier joined at Clyde yard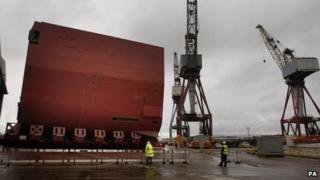 Two giant hull sections of the first of two new Royal Navy aircraft carriers being built on the Clyde have been joined together.
More than 4,000 tonnes of steel was moved 100m (328ft) to make up the aft section of HMS Queen Elizabeth.
It took about an hour to complete the operation at BAE Systems' Govan shipyard.
The new section will house the two main engine rooms, a medical area and living accommodation.
A fleet of remote controlled transporters was used to move the sections.
Stephen Carroll from BAE Systems led the operation.
He told BBC Scotland: "These are the largest warships ever built for the Royal Navy at 65,000 tonnes.
"This section itself is going to be 11,500 tonnes when we load her out to go round to Rosyth from Govan.
"We have continually been proud to be on the programme, and delivering to plan."
Defence order
In August last year the largest section of the Queen Elizabeth arrived at Rosyth, after a being carried on a sea-going barge from the shipyard on the Clyde.
When assembly is completed, HMS Queen Elizabeth will be a 280m (919ft) long carrier capable of deploying up to 40 Lockheed Martin F-35 aircraft.
The ship will not be finished until 2016 at the earliest, and may not be ready for active service until 2020.
The carrier project is one of the largest defence orders placed in the UK, with a price tag of £5bn.
Work on the Queen Elizabeth's sister ship, HMS Prince of Wales, is also under way at Govan.