Amnesty reports say Scottish gypsy travellers face discrimination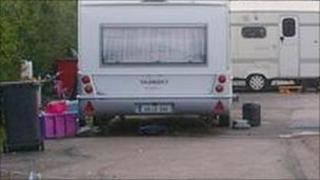 Scotland's gypsy traveller community continues to suffer discrimination from both local authorities and the media, according to new studies.
Amnesty International Scotland has published two reports on the issues facing gypsy travellers.
They highlight a lack of halting or transit sites and personnel to liaise with travellers.
The studies also found media coverage in Scotland was disproportionate and mostly negative.
Amnesty has produced the two reports -On the MarginsandCaught in the Headlines- as part of its ongoing campaign to raise awareness about what it terms "the widespread and systematic discrimination" suffered by this community.
According to the first report some local authorities have acknowledged that traveller sites are an issue, but that opposition from the local community was a significant factor in the failure to deal with the problem.
Funding was also identified as a barrier in addressing concerns raised by Amnesty.
The second report highlights what it calls a "disproportionate amount of scrutiny of Scottish gypsy travellers in the Scottish media".
It says that nearly half of the stories looked at were categorised as overtly negative, with certain stereotypes such as connections to criminality or references to dirt and hygiene featuring regularly.
The report was also very critical of local politicians whom it claims make statements on gypsy traveller issues which were "overwhelmingly negative".
Director of Amnesty International in Scotland, Shabnum Mustapha, said: "It is extremely disappointing that, after so long, this community is still suffering such direct and indirect discrimination.
"Whilst our research has found that there are some positive steps being made, and we welcome this, there is a long way to go to tackle the deep-rooted inequalities which Scottish gypsy travellers face every day."
Amnesty's views were echoed by Article 12, a young persons rights group.
Its national co-ordinator, Lynne Tammi, called for an end to negative stereotypes of travellers and demanded "fairer reporting, which gives due regard to ethnic status and culture".