Alison Hume inquiry: Mineshaft rescue 'lacked focus'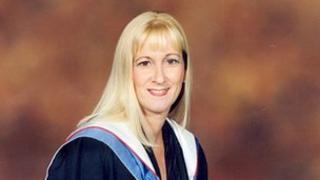 A second inquiry into the death of a woman who fell down a mineshaft in Ayrshire has found that fire commanders did not act quickly enough to save her.
Alison Hume, 44, lay for six hours after health and safety rules delayed a rescue at Galston in 2008.
A fatal accident inquiry last year said she may have lived if moved sooner.
A new probe from HM Chief Inspector of Fire and Rescue Authorities said "there was an inexplicable lack of focus on the need for a speedy recovery".
Mrs Hume, a solicitor who worked with the Renfrewshire legal firm McCusker McElroy and Co, fell into the decommissioned Goatfoot Colliery mineshaft shortly before or after midnight on 26 July 2008.
Cardiac arrest
She was found by her daughter, and emergency services were called to the scene at about 02:15.
The mother-of-two was eventually freed by mountain rescue experts at about 07:42 and was hypothermic and in a critical condition having suffered a pneumothorax, broken ribs and a broken sternum.
Mrs Hume suffered cardiac arrest while being brought to the surface and later died in Crosshouse Hospital, Kilmarnock.
The fatal accident inquiry into her death, overseen by Sheriff Desmond Leslie, concluded Mrs Hume may have lived if emergency services - and the fire service in particular - had removed her sooner.
The sheriff's ruling highlighted procedural failings which led to the delay, and said senior officers on the scene "rigidly stood by their operational guidelines".
Following the inquiry, First Minister Alex Salmond ordered a new probe by HM Chief Inspector of Fire and Rescue Authorities Steven Torrie.
In his report, he noted that the rescue was "complex and difficult" and "beyond the experience of the fire and rescue service in general".
He continues: "Successful rescue was not guaranteed - but was much more likely if the rescue had been carried out reasonably quickly.
"And in relation to that, there was an insufficient and inexplicable lack of focus on the need for a speedy recovery from fire and rescue operational commanders.
Family apology
"It ought to have been clear to the decision makers that Alison's condition would deteriorate the longer she was down the shaft and that hypothermia would be a significant risk to her."
Following publication of the report, Strathclyde Fire and Rescue's Chief Officer, Brian Sweeney, said: "I want to reiterate our apology to Alison Hume's family on behalf of the entire service and by reiterating the enormous sense of regret this incident evokes in every member.
"Whilst the inquiry report rightly points out that this was a highly unusual and particularly dangerous incident that was beyond the experience of the emergency services, this is of little comfort and we in this service have now done everything we can to ensure a tragedy like this can never happen again.
"The only consolation we can take is that lives will undoubtedly be saved in the future as a result of the lessons learned from these tragic events."
Mr Sweeney said that the service had taken "every possible step" over the past few years "to ensure we are equipped, trained and prepared to the highest possible standard to deal with incidents of a similar nature".
Community Safety Minister Roseanna Cunningham said lessons would be learned from the tragedy.
She said: "We are already embarking on a process of reform of Scotland's fire and rescue services to not just protect but crucially to improve local services.
"A single fire and rescue service will be able to provide more equitable access to specialist resources and improve consistency in training and application of guidance across the whole of Scotland.
"Our fire and rescue services continue to do an excellent job in often difficult circumstances. However, it is vital lessons are learned from this process to ensure future capability in the face of challenging situations is strengthened, and public safety improved."