Murder plot charge dropped at Neil Lennon parcel bomb trial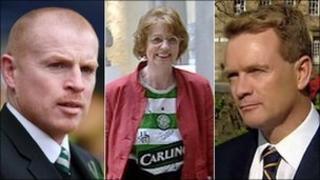 Two men accused of sending suspicious packages to Neil Lennon and two other high profile Celtic fans are no longer facing a charge of plotting to murder.
Judge Lord Turnbull told the jury at the High Court in Glasgow that Trevor Muirhead and Neil McKenzie faced the charge of conspiracy to assault.
He said the accusation of conspiracy to murder could not be founded on the evidence heard during the trial.
Mr McKenzie and Mr Muirhead deny the remaining charges against them.
Mr Muirhead, 44, and Mr McKenzie, 42, had been accused of conspiring to "assault and murder" Mr Lennon, the late QC Paul McBride and ex-MSP Trish Godman.
Lord Turnbull told the jury there was not "sufficient evidence" that the two accused intended to kill the trio.
Insufficient evidence
The judge had earlier heard a legal debate following the closing speech by the prosecution on Wednesday.
He told the jury: "I have come to be satisfied that the evidence in this case - no matter what you make of it and taking it at its highest - it will never be sufficient in law that a conspiracy to murder has been established.
"The part of charge two - the conspiracy to murder - cannot be founded on the evidence you have heard in this trial."
Following the judge's comments, Gordon Jackson QC, representing Mr Muirhead, began his closing speech.
He said: "How could you believe that these things (parcels) were going to go off unless you were even dafter than them (the accused)."
The lawyer also said any talk in this case about UVF involvement was "a total and utter red herring" for which there was "not a scrap of evidence".
He said that while Mr Muirhead comes "from that kind of loyalist/Rangers/Protestant background", it was clear he had not been interested for a long time in loyalist organisations such as the Orange Order and Apprentice Boys of Derry.
The QC said that while packages had been sent through the post, and this was "a very bad thing", the Crown had failed to prove Mr Muirhead and Mr McKenzie conspired to post them with "the intention and belief" they would cause injury.
Jury charged
He added: "No matter how horrid, nasty, even evil to do it, it is absolutely not the crime that is charged."
Donald Findlay QC, representing Mr McKenzie, is due to begin his closing speech later.
It is expected that Lord Turnbull will charge the jury on Friday.
Mr Muirhead and Mr McKenzie also face a allegation that they sent another suspected bomb to the offices of Cairde na hEireann (Friends of Ireland) in the Gallowgate, Glasgow.
Both men face an alternative allegation contrary to the Explosive Substances Act of "unlawfully and maliciously conspiring" to endanger life or cause serious injury.
The pair face a separate allegation of dispatching an item on 3 March to Neil Lennon at Celtic Park with the intention of inducing him to believe that it would "explode or ignite".
They deny these remaining charges.